Facility Signs:
These are customized signs for indoor and outdoor uses in retail outlets and institutions. They are the most effective ways of communicating information or a product attribute in a location. These come with various front lit and backlit options, and also use the latest materials available from 3M to generate the desired effects.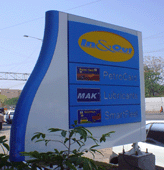 Made of Aluminum Composite Materials (ACM), Acrylic, Polycarbonate & Flex, these signs can meet any specific requirement of illuminated signs. They are also suitably designed to accommodate easy maintenance of electrical hardware.

ICP manages, manufactures, markets and sells signage that meets and exceeds the expectations of our customers. We are able to offer the complete range of signage elements and we are keenly aware and constantly searching for new ways of providing all elements, not just the fabrication, of a customer's corporate signage program.

Whether helping our clients rejuvenate their corporate image, tackling multiple installations, manufacturing custom and program projects or designing and engineering one-of-a-kind, award winning projects, ICP has continued, and will continue, to demonstrate its leadership ability and expertise in the sign industry.

We build relationships, one sign at a time.